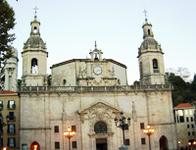 Church of San Nicolas
Church of San Nicolas built with red bricks is one of the oldest churches in the Madrid. Some people believe this church is drawn as a part of Arab mosque while others think this church was built during 1085 and after the Christian conquest. Also it is believed to be crafted by Moorish or Spaniards. The typical Moorish architectural style of the church like horse shoe arches and red brickwork boosts the second claim.
Opening Hours: Mon 8.30 a.m. – 1.00 p.m., Tue – Sat 9.00 a.m. - 9.30 a.m. and 6.30 p.m. - 8.30 p.m., Sun 10.00 a.m. - 2.00 p.m. and 6.30 p.m. - 8.30 p.m.
Address: Plazuela de San Nicolás, Bilbao 48005 Spain.
Tel. No.: +34-915-594-064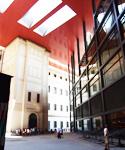 Queen Sofia Art Center
Museum 'Sofidu' is a museum dedicated to modern art. The museum exhibits the creation of Picasso showing the horror of bombings on Basque town of Geurnica during 1937. The museum also displays the major Cubist and Surrealist works including Salvador Dali's The Great Onanist (1929) and the Enigma of Hitler (1939).
Opening Hours: Mon – Sat 10.00 a.m. - 9.00 p.m., Sun 10.00 a.m. - 2.30 p.m., Tue - Closed.
Address: Museo Nacional Centro de Arte Reina Sofia, Santa Isabel 52, E-28012 Madrid, Spain.
Tel. No.: +34-917-741-000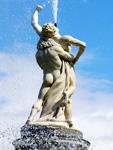 Aranjuez
The residence of the Kings since 15th century and located on a fertile plain is blessed by the Tagus river. This royal retreat boasts of beautiful jewels such as the Palacio Real (Royal Palace) and the magnificent gardens which surround it. The palaces built by Bourbon kings during the 17th Century still maintain their royal looks and gardens with architectural unity. One of the well known gardens is Jarden del Parterre, known for sculptures in it. The 'Jarden de la Isla' is famous for its fountains where as the 'Jardin del Proncipe' stands out for its English style designing. The Casa del Labrador ,a neoclassical hunting pavilion is located in the Jardín del Príncipe was constructed under the order of King Carlos IV. In the beginning of 18th Century the town of Aranjuez was built. King Fernando VI ordered design of streets and dwellings to be erected based on the designs inspired from the enlighten movement. The palace is located at 47kms from Madrid on the N-IV highway. There are trains leaving every 30 minutes from Atocha station & buses from the Esracion Sur de Autobuses. There is also a special tourist train called Tren de la Fresa (strawberry train) on Saturdays from May to October (except August).
Address: Plaza de Parejas, Madrid 28300, Spain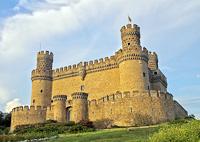 Manzanares el Real
Madrid's people like to travel to Sierra de Gudarrama during summer times. The scenic location of Sierra de Gudarrama at the foot of La Pedriza Mountain makes this town as of the of the best summer destinations. Located 47 Kms from Madrid on the Colmenar Viejo highway, there are buses available from Plaza de Castilla Mateo Inuria.
Address: Plaza del Pueblo 1, E-28100 Madrid, Spain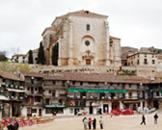 Chinchon
Chinchon is a romantic medieval village just 50 kms away from Madrid. Chinchon is famous for its traditional festivals like bullfights and theatre performances. All the events are held at main square, Plaza Mayor. Other attractions include ruins of 15th Century castle and Paintings by Goya. Chinchon is also a popular destination for foodies. The Anisette brandy made here is popular through-out the Madrid region.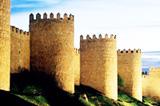 Avila
Well maintained and preserved medieval walls are present in the birth place of St. Teresa. 115 Kms northwest of Madrid on the N-VI highway, the cathedral dates back to the 14th Century. Trains are available from Atocha station while buses depart from Paseo de la Florida.
Address: C/ Jaime Vera 12, 28011 Madrid, Spain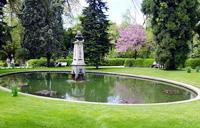 PARKS IN MADRID
Jardin Botanico
Next to the Prado museum is Jardin Botanico, a botanical garden. This garden was founded by Charles III and now includes around 30,000 species of plants and trees. All trees are labeled with their respective Latin names.
Address: Plaza de Murillo, 2, Madrid 28028 Spain
Tel. No.: +34-914-203-017
Casa de Campo
With an area of around 4000 acres this large park is located on the right bank of river Manzanares, towards the west of Madrid. Swimming & tennis can be enjoyed in the park with rowboats are also available on rent for joy rides in the artificial lake.
The Parque Zoologico or Zoo and a large amusement park are also found in the southern part of the park.
Address: Avda de Portugal s/n, Madrid, Spain
Tel. No.: +34-915-189-170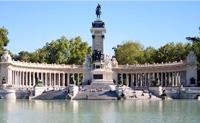 The Retiro Park
The Retiro Park belonging to the Real Sitio del Buen Retiro palace was constructed as a retreat for the royal family by King Philips IV in the year 1932 AD. During that time the park was very much outside the city walls but with time the same has been enclosed in Madrid. This royal park was opened to public in 1868.
Address: Madrid 28014 Spain
Rosales and Parque del Oeste
It is extremely popular amongst all basically due to its very central location and also for being quite close to several historical sites. The tastefully nurtured gardens which exhibit a wide range of different plants along with a series of monumental sculptures interest the visitors to a very large extent. The must see feature of this park is the beautiful Rosaleda, or rose garden, which also hosts an annual international competition. It's advised to avoid visiting the place at night.
Opening Hours: Nov – Mar 10.00 a.m. - 8.00 p.m., Apr – Oct 9.00 a.m. - 9.00 p.m.
Address: Paseo del Pintor Rosales, s/n, Madrid 28008 Spain
Tel. No.: +34-915-888-790
Quinta de la Fuente del Berro
It is one of the best-known parks in Madrid. This park is neighbored by other green areas such as Elipa Park and Roma Park. The Watercress Fountain in the park prides itself of being a source of water that is said to have been the one of best quality in Madrid for ages. Park is having beautiful landscapes with trees and pathways across the lush green lawns. Plenty of statues and an old mansion is also one of the attractions of this park.
Opening Hours: Jun – Sept 7.00 a.m. - midnight, Oct – May 7.00 a.m. - 10.00 p.m.
Address: Avenida de La Paz / Calle Enrique de Almonte
Tel. No.: +34-915-570-808