Madrid Travel Tips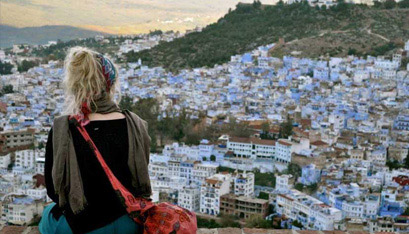 Madrid is the third-largest city in the European Union and the capital city of Spain. Situated on the Manzanares River, it is the famous touristic city of Spain and the seventh most visited place in the world. There is no shortage of tours when exploring the city.
It is considered amongst the world's global cities because of its growing education, entertainment, culture and politics. Don't be alarmed as you can safely travel around Madrid city with ease and exploring the city's famous museums and galleries.

Get Around Madrid City
By Bus & Train
In Madrid, public transportation is fast, safe and efficient. There are more than 170 bus lines, 13 metro lines and ten lines of Cercanias. Passengers can purchase single tickets at the slot machines in metro stations or on buses, which are used for both buses and the metro system. Blue buses run in Madrid, but a few are red diesel buses. Many new blue buses also offer a child seat with a suitable seatbelt. Double-decker touristic buses run through 3 lines taking you on beautiful avenues, attractions and monuments. Commuter trains are always on time and effectively link the city centre with the suburbs.
By Taxi
Madrid taxis are metered, but it's better if you obviously ask the fare as they might charge extra for long-distance rides. Car rental is also available with special deals, but it depends on your ability to bargain with local or international brand agencies in Madrid. It is easier to drive a small car because of narrow roads and limited parking space.
By Foot
The Spanish capital is also without a doubt the most beautiful place to visit, especially on foot and during the pleasant summer or autumn months. You can also try one of the many walking tours in Madrid city to learn about the city, in the company of your friends and a well-informed guide.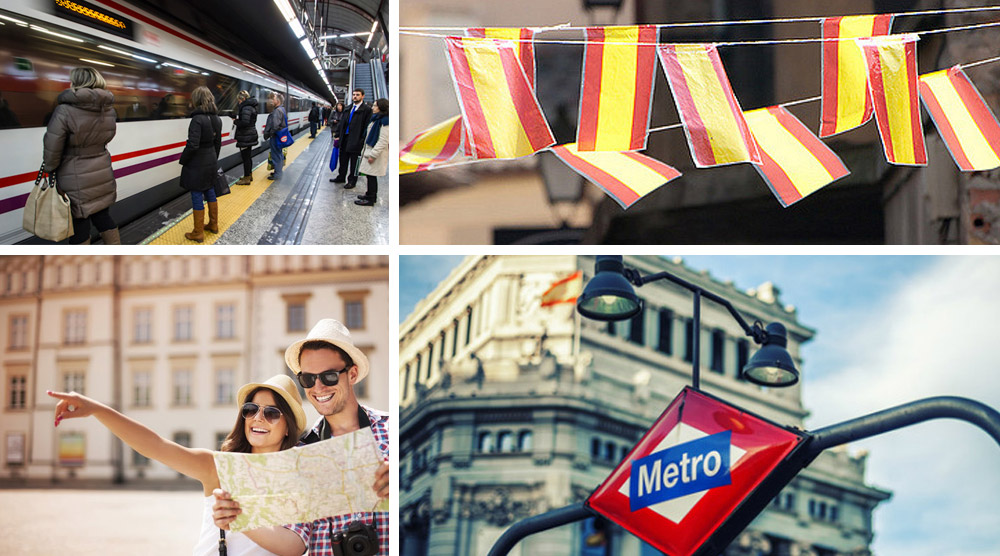 Tipping
Tipping is common in Madrid. Locals often tip small change near a Euro for good service. Many people also tip an extra Euro or 2 for great service and added value. In restaurants, tipping is 10%, but they don't charge extra on the final bill. Some expensive restaurants add IVA (value-added tax) up to 10% on the final bill. Always tip service staff to get added advantages. Tipping taxicab drivers, hairdressers and hotel personnel are also customary in Madrid.
Safety
Like other European cities, petty crime exists in Madrid. Apply your common sense if you don't want to be prey. In any case, never mix with strangers, who offer to help as they might be thieves. Don't keep your important documents and valuables in back pockets to avoid pickpocketing. Keep important things in a bag with zipper and if possible use inside pockets for money, passport and valuables. Also, hire only authorized taxis, white with a red band across the side, while travelling from the airport when you take a flight. In case of emergencies, dial 112. And if you are unable to describe the event, then tell 'no hablo mucho español.' Required service will be sent. Keep a list of phone numbers for local clinics, the police station and medical services in case of urgency.
When to go Madrid, Spain
Because of its high elevation and Mediterranean climate, Madrid has cold winters followed by periodic snowfalls and minimum temperature. The temperatures regularly exceed 86°F (30°C) with varying weather conditions from warm to hot in the middle of summer, but rarely cross over 104°F (40°C) in July and August. Due to dry climate and altitude, the city experiences diurnal ranges during summer. Rainfall occurs in the autumn and spring, but rare in summer.
In spring and autumn, travellers love to visit Madrid. Spring stays from March throughout May. During this season, days are warm, but nights are cold. Streets are ready for the famous 'marcha,' which involves walking across the city, chatting on the streets, stepping in bars, having fun outdoors. Holy Week is another best time when madrilenos go away from the city on summer vacation. Autumn starts in September and stays until November. Schools and offices open after the August holidays and the city glitters in the sparks of cultural activities. December to March is off-season to go to Madrid due to chilly winter, but it's much enjoyable if you love snowfall and can sustain a temperature below 32°F (0°C).
Emergency Contacts
| | |
| --- | --- |
| Emergency services in Madrid | 112 |
| International Country Calling Code of Spain | 34 |
| International Access Code for dialling out of Spain | 00 |
| Madrid City Council Information | 010 |
| Community of Madrid Information | 012 |
| Central Police Station | 915 487 985 |
| National Police | 915 805 263 |
| Ambulances | 913 354 545 |
| Red Cross Emergencies | 915 222 222 |
| Victims of Terrorism | 900 150 000 |
| Servicio de Atencion al Turista Extranjero (SATE) | 902 101 112 |
Important Phrases
| | |
| --- | --- |
| Spanish | English |
| Buenos días | Good day, Good morning |
| Por favor | Please |
| Gracias | Thank you |
| Buenas tardes | Good afternoon, Good evening |
| No comprendo! | "I" do not understand! |
| Habla inglés? | Do you speak English? |
| Podría ayudarme? | Could you help "me"? |
| Disculpe, Perdón | Excuse "me", Pardon "me" |
| Tiene usted un ___? | Do you have a ___? |
| Dónde está ___? | Where is ___? |
| Cuánto cuesta? | How much does it cost? |
Recommended Activities