Madrid City, Spain » Entertainment » Activities
Madrid is known as the 'Party Capital' of Europe. It is also considered as one of the best cities for stag weekends in Europe. Apart from the pubbing and clubbing, loads of activities are available ranging from skiing, clay pigeon shooting, quad bikes to paint-balling.
STAG ACTIVITIES
Below mentioned are few popular activities for stags:
Bar Games
Bull Running
Clay Pigeon Shooting
Go Karts
Horse Riding
Paintball
Quad Bikes
Skiing
Also other possible activities are Hot-Air Ballooning, Archery, the Laser Labrynth, and Snowboarding, seeing Real Madrid or Atlético de Madrid, Basketball & Volleyball, 5- or 7-aside Football, Golf, Kayaking, Rafting, Wakeboarding & Water parks.
Beside above common activities there are few dare-devil activities like Parasailing, Sky Diving, Mountain Biking and bullfighting.
HEN ACTIVITIES
Below mentioned are few Hen activities which would kill your boredom.
Belly Dancing
Day Spas
Flamenco
Horse Riding
Pampering at Hotel
Pole Dance Classes
Shopping Trip
Skiing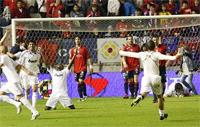 MADRID'S FOOTBALL TEAM
While considering the activities carried out in Madrid, one cannot forget about Football. Football literally assumes Godly status among Madrid citizens. Real Madrid, Atletico de Madrid and Rayo Vallecano are the main football teams of Madrid. Real Madrid Club de Futbol was founded in the year 1902 and is commonly known as Real Madrid, Los Blancos, Los Merengues is a professional association football club.
The team has achieved various awards like 31 La Liga titles, 17 Spanish Cups, a record nine European Cups as well as 2 UEFA Cups to name a few. Real Madrid has been officially declared as the best football team of the 20th Century by FIFA.
They play at the world famous Santiago Bernabeu Stadium. The said stadium was built in the year 1947 and has a capacity to accommodate approximately 80,400 spectators. The team – Real Madrid is considered to be the world's richest team in terms of revenue.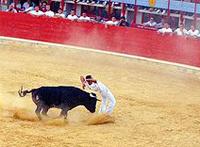 MADRID'S BULLFIGHTS
Madrid's bullfighting is an artistic spectacle and is world famous. Nowhere in the entire world is bullfighting which is better than that in Las Ventas on Calle Alcala, Salamanca, Madrid. Las Ventas was established in the year 1929 and is considered to be the world center of bullfighting. It has a seating capacity of almost 25,000.
There is a special season when bullfighting is hosted. It begins in the month of March and ends in October. As far as tickets are concerned, they are readily available at the ring or at one of the agencies on Calle Victoria off Puerta del Sol for a surcharge of 20%.