Madrid City, Spain » Entertainment » Restaurants

Al Natural Restaurant
Al Natural is a restaurant offering traditional Vegetarian cuisine. Inaugurated in the year 1994, the restaurant offers healthy fat-free meals. It is one of the sophisticated vegetarian restaurants in Madrid. It serves outstanding ingredients with best quality and freshness. It is because of subtle lighting and the carefully positioned plants in the dining room that the atmosphere becomes warm and cozy. Al Natural specializes in serving Mushroom Stroganoff and Aubergine Gratin. It has a seating arrangement for about 70 people bifurcated in three dining rooms which are all non-smoking ones.
Address: C/ Zorrilla 11, 28014 Madrid, Spain.
Tel. No.: +34-913-694-709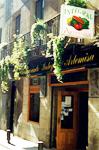 Artemisa Restaurant
Artemisa Restaurant in Madrid is a legendary restaurant offering vegetarian food.
The restaurant is decorated with argestic campground elements. An excellent raw material is used in Artemisa and delicious dishes are prepared out of it all of vegetable origin. They serve Artemisa eggplant, Catalan spinach, lasagna Artemisa. Moreover, off menu tasty cabbage with raisins and tomato natural is also been offered.
Also, they offer yummy tofu sausages and tofu stew prepared in cream sauce along with carrots and ginger. They serve heart throbbing cake-Farah Diba prepared with mushrooms stuffed with pate, wheat, eggplant and Gouda cheese.
Address: Ventura de la Vega 4, Madrid, Spain.
Tel. No.: +34-914-295-092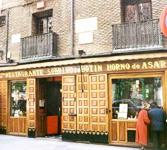 Botin
Botin is a restaurant offering traditional Mediterranean cuisine. It was started as early as in 1725. Also, it is the oldest as per the Guinness Book of world Records. The restaurant also has a mention in the book Fortunata y Jacinta by Benito Pérez Galdós (published 1886-1887). Spanish people love to visit Botin for having the cochinillo asado (roast suckling pig) and cordero asado (roast lamb). Housed in XVI century building in the old part of Madrid, Botin has become a hot priority and a place that is a must for a visitor while in Spain's capital.
Botin is a four storey restaurant having tiled floors. Also, its dining rooms are decorated with wooden beams and have ancient caste-iron ovens. An occasional Tuna is performed by a musical group formed by the students. It plays traditional songs wearing traditional costumes complete with knee-breeches.
Address: Calle Cuchilleros, 17, Madrid, Spain.
Tel. No.: +34-913-664-217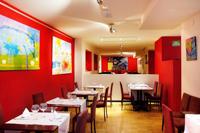 Cornucopia Restaurant
Cornucopia is a restaurant offering modern International cuisine. It was started in the year 1992. Kim Manning, Fernando Bazan and Bernardo Martinez are now operating the said restaurant. Uniting the traditions and ingredients of various countries the restaurant offers a creative cuisine. The restaurant consists of three dining rooms. Out of which one room is decorated with art exhibitions. There are few restaurants in Madrid offering roast turkey for dinner on Thanksgiving Day that follows traditional American Recipe. Cornucopia is one of them.
Address: Calle Navas de Tolosa, 9, 28013 Madrid, Spain.
Tel. No.: +34-915-213-896
El Amparo
El Amparo is a three storey esthetically pleasing escapade that serves Basque, European as well as Spanish cuisine. This restaurant offers radically distinctive nouvelle cuisine that includes cold marinated salmon along with tomato sorbet, secondly, roast lamb with garlic puree and also seafood stuffed cappelletti. One can enjoy sunlit dining through day as well as scintillating lantern dining through night as the restaurant is strategically located in skylights.
Address: Callejón de Puigcerda, 8, Madrid 28001, Spain.
Tel. No.: +34-914-316-456

El Bodegón
This is a best place to have an evening dining. It offers a sensational meal by blending lavish and luscious Continental, European and French cuisine. Moreover, the restaurant also serves mouth watering desserts like citric fruit pastries.
Address: Calle Pinar, 15, Madrid 28006, Spain.
Tel. No.: +34-915-623-137
El Corral de la Morería
Inaugurated on 25th May 1957, The Corral de la Moreria is the oldest flamenco show restaurant in Madrid. It has hired the best chefs and the most distinguished artists-Antonio Gades, Pastora Imperio, Mario Maya to name a few. The restaurant endeavors an exquisite service to its customers. It is an air conditioned restaurant having a seating arrangement for about 150 people. The furniture and the lamps take us back to the 18th and 19th century giving a Castilian looks to the restaurant.
Address: Calle Moreria, 17. 28005 Madrid, Spain.
Tel. No.: +34-913-658-446
Horcher
Horcher was originated in the year 1904 in Berlin. It is a restaurant offering wide range of wild dishes starting right from venison stew to roast wild duck with almond croquettes. Also, the restaurant serves variety of Continental, European, German as well as International cuisines. The restaurant offers delicious desserts like chocolate covered fruit, cake and Austrian Crepe.
Address: Alfonso XII, 6, Madrid 28014, Spain
Tel. No.: +34-915-220-731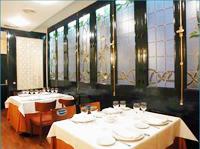 La Buganvilla Restaurant
La Buganvilla is a restaurant located in one of the most stylish streets in Madrid offering traditional Mediterranean cuisine. Authentic and freshly cooked Paella dishes prepared with top quality ingredients are worth experiencing. It has a main dining room accompanied with various other smaller rooms usually used for group parties etc.
Address: C/. Almagro, 12, 28010 Madrid, Spain.
Tel. No.: +34-913-197-550
La Trainera Restaurant:
La Trainera is a restaurant offering traditional Seafood cuisine. It is a simple and homely restaurant serving Madrid's best fresh fish and shellfish. The restaurant serves a dazzling choice like clams, mussels, oysters and percebes (goose barnacles). All these are shellfishes that are delicious steamed. It serves only Iberian Cured Ham and red meat is no ways served by La Trainera.
Address: Calle Lagasca, 60, 28001 Madrid, Spain.
Tel. No.: +34-915-768-035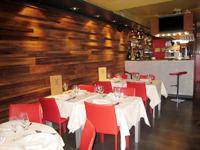 La Vaca Argentina
La Vaca Argentina - Las Rozas is a restaurant offering modern Argentinean cuisine.
It has open spaces and high ceilings. Its large central saloon with a glass chimney and small areas offering privacy makes it an all rounder for any sort of occasion, business lunches and family outings. It could also be just a stop away for those heading towards Sierra Madrilena-a sensational chain of mountains cutting across the northwest.
The Argentine meat in La Vaca is prepared on the grill and a variety of international dishes are prepared with the seasonal products: pasta, fish and salad to name a few. To finish off, their desserts are mouth watering cheese and caramel cakes, fruit dishes like Strawberries sprinkled with Pepper, Pineapple Carpaccio.
Address: Carretera de La Coruña Km.18, Las Rozas, 28230 Madrid, Spain.
Tel. No.: +34-916-361-001
Viridiana
The chefs in Viridiana come out with innovations using Spanish recipes. Depending upon seasonal ingredients, new menu is prepared regularly. It is a restaurant that serves European and Spanish cuisines.
Address: Juan de Mena, 14, Madrid 28014, Spain.
Tel. No.: +34-915-315-222
Zalacain
Zalacain is a restaurant offering amazing dishes like stew of scampi in cider sauce and duck in red wine. Moreover, the restaurant serves the purpose for people who are confused and can't decide by arranging a sampler menu for a fixed price. It also provides fabulous dessert like Chocolate Volcano.
Address: Alvarez de Baena, 4, Madrid 28006, Spain.
Tel. No.: +34-915-615-935