Madrid City, Spain » Entertainment » Shopping Centres
Madrid is no where behind in fashion. People of all age are stylish in Madrid. Hence, Spanish as well as international designers put up their shops/boutiques around the streets of Almirante, Conde de Xiquena, also in the district of Salamanca-streets famous for style. These shops are considered to be the best shops for jewellery, shoes, leather articles, furniture, gift articles etc.
A miscellany of shops those sell traditional articles such as espadrilles, fabrics, ropes, hats and religious articles are located in and around the Plaza Mayor. Whereas the departmental stores occupy the area in the vicinity of the Puerta del Sol and along the streets of Princesa, Goya and Castellana.
Also, there are open air markets often known as flea markets out of which Rastro is one of the most famous ones. It consists of all that is imaginable right form valuable antiques to used clothing. It also displays and sells collector cards, books, records, paintings, etc. Rastro is located between the Plaza de Cascorro, La Latina and the street of Embajadores.
Madrid hosts many fairs in the month of May like The Feria del Libro Antiguoy De Occasion fair – for old and used books and The Feria del Libro sobre Madrid fair – it features books about Madrid.
Shopping becomes more easier when one visits following destinations: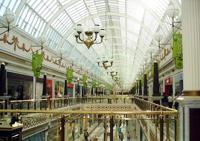 Plaza Norte 2
The center of the mall is decorated with the lamps of Italian style having huge chandeliers. It has marble flooring, marble columns, staircases and the balconies as well are of marble.
Opening Hours: 10 a.m. – 10 p.m.
Address: Parque Commercial Mega Park, Nacional N-1 Salida 19, Madrid, Spain.
Tel. No.: +34-916-593-967
Xanadu Commercial and Leisure Center
Xanadu is considered to be one of the largest shopping centers in Madrid. It consists of more than 250 stores open year-round. The shopping center also has movie theatres as well as restaurants. Moreover, facilities that can be availed are go-kart racing track, a mini amusement park, a bowling alley, preschool etc. to name a few.
Xanadu owns a largest indoor ski slope in Europe. There are two slopes put out in the snow park over 24000 square meters out of which one is meant for the beginners and the other for the experts. A clear view of the ski slope can be observed from the cafes and restaurants from above the park.
Opening Hours: 10 a.m. - 10 p.m.
Address: Autovía A-5, salidas 22 y 25. Arroyomolinos, 28939 Madrid, Spain.
Tel. No.: +34-902-263-026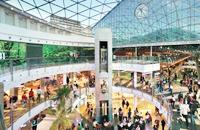 Príncipe Pío Shopping Center
This shopping center takes one back to the 19th century. There was an ancient railroad station of Principe Pio which was then converted into a shopping mall. But, the original structure of it is still intact. At present, along with local trains and subway, there are various stores, restaurants, movie theatres.
Opening Hours: 10 a.m. – 10 p.m.
Address: Paseo de la Florida, s/n, 28008 Madrid, Spain.
Tel. No.: +34-915-470800
Dreams Palacio de Hielo
This mall offers shopping, leisure and sports with one of the amazing ice skating rinks in entire Europe. This rink is of 1800 square meters. Also, it has movie theatres, restaurants, indoor swimming pool, gymnasium, solarium and a bowling valley.
Opening Hours: Mon – Sat 10 a.m. - 10 p.m.
Address: C/ Silvano 77 28043 Madrid, Spain.
Tel. No.: +34-917-160-400
Salamanca
Salamanca is one of the major shopping areas in Madrid. It has some of the city's largest and best stores. It is located along Serrano and parallel streets, Claudio Coello, Lagasca and Velazquez.
Address: C/ José Ortega Y Gasset 89 28006 Madrid, Spain.